Windows 7 Volume licensing basically has three ways to activate, MAK, MAK proxy and KMS. The first two require a key and the proxy needs to use the Volume Activation Management Tool. I won't get into MAK today, its is somewhat straight forward. If you need information, check out the information on MAK at TechNet, http://technet.microsoft.com/en-us/library/dd979805.aspx.
What I want to talk about is KMS, Key Management Service. Setting one of these servers up is as easy as making Kraft Dinner. Yes, simple. In reading in the forums I see people having troubles getting one up and going. I'll walk you through the easiest setup. This walkthrough isn't meant for someone already using a KMS server for Windows Vista or Windows Server 2008.
If you want to activate Windows 7 clients, the simplest choice is install Windows Server 2008 R2. You can use Windows Server 2003 or Windows Server 2008 but you need to install an update. If you have Server 2008 R2, I recommend using it, its just the easiest thing to do. There is a hierarchy of how the setup works, http://technet.microsoft.com/en-us/library/dd979804.aspx will give you the low down.
For me, Windows Server 2008 R2 based KMS server made the most sense. The next step is to locate your KMS key for your volume activation. The key you are looking for, is the Windows Server 2008 Std/Ent KMS B (note the KMS B).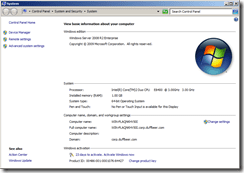 Instead of using the MAK key when you enter the key for activation, you will enter in your KMS.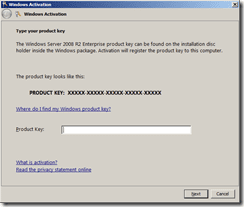 You will get an warning message that you are using a KMS key, like this.
Click OK and you will have then made a KMS host machine. That is all there is to it. Some people get worried and think they have to add a Windows 7 key for the KMS host to accept Windows 7 clients. You don't need to do that, at least I didn't have to.
The other thing to remember is that in order for your server to activate computers, you must have at least 5 Servers checked in for server activation to occur or 25 Windows 7 or Vista machines checked in for client activation to occur. To check the status of the computers, I find the VAMT tool which comes with the WAIK works well.