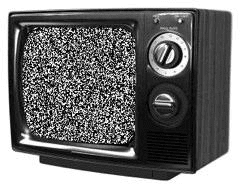 It looks like the change to digital television is going to be delayed. I can't blame the new administration for wanting to hold off. There is a huge backlog of people waiting for coupons for the converter boxes. One of the deals in the new deadline is an exception that will allow stations to change sooner than the new June deadline.
So, some might cutover on February 17th, some might wait.
I personally thought having the change in the middle of winter was stupid in the first place. If a person needs to make changes to their outdoor antenna, winter is a bad time to be doing that. Canada is planning its cutover for August 31st, 2011 which I am looking forward to as the picture quality is much better than analog.  And while I wish the changeover was sooner for us up here, having a summer time change makes it better to do work on the antenna, if you need to make corrections.
So far, I don't have any indication what my local Watertown stations are planning on doing. I am thinking WWNY might change early as they plan on using their existing DTV transmitter to launch WNYF digitally in HD, but that could wait until June and might work out better weather wise. WWTI and WPBS are remaining on their existing digital allocations, so all they have to do is turn off their analog transmissions whenever they chose to do so.
No matter what happens, the extension helps add confusion to the changeover but will help with safety if people need to make corrections to outdoor antennas and the such.